Use DataSnipper to perform your confirmation procedures and document the results. You can easily create cross references to a variety of documents including responses to audit confirmation letters, bank statements, or alternative evidence.
What is a confirmation procedure?
"An external confirmation represents audit evidence obtained by the auditor as a direct written response to the auditor from a third party (the confirming party), in paper form, or by electronic or other medium. External confirmation procedures frequently are relevant when addressing assertions associated with certain account balances and their elements. However, external confirmations need not be restricted to account balances only. For example, the auditor may request confirmation of the terms of agreements or transactions an entity has with third parties; the confirmation request may be designed to ask if any modifications have been made to the agreement and, if so, what the relevant
details are." (ISA 501 A.18)
Manual Snipping to document confirmations
You can use manual snipping of each individual piece of evidence to aid your review and save time in cross referencing documents. Start by importing all relevant evidence into a workbook, add your listing and use the text or validation snip to verify that the evidence confirms the balances in your sample.
You can learn more about all Snipping techniques right here.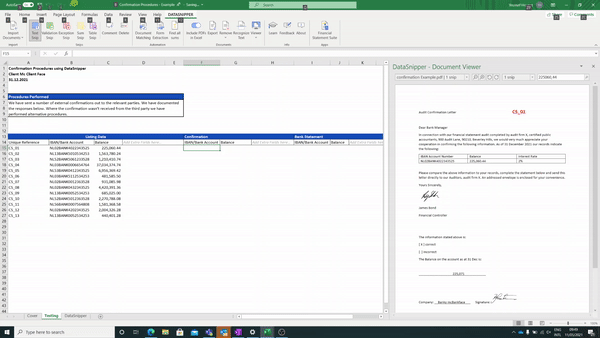 Document Matching to automate tie through of confirmations
Similar to the above example, you can extract the information for multiple confirmations at once using document matching. Simply import the relevant document groups, bring your schedule of information required to be inspected into the workbook and use the document matching menu to automatically extract the information required into your workbook. This results in an improved audit trail where reviewers can easily see the confirmation, or alternative evidence used to verify a specific balance.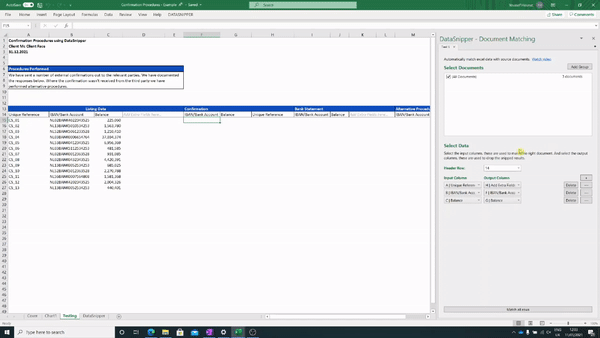 Form Extraction to automate confirmation procedures
Finally, you can also use the 'Form Extraction' feature to generate a data table based on your confirmations, simply import all your documents to the workbook, click on 'form extraction' and select the relevant data area on the first confirmation. DataSnipper will then extract the rest of the information from the remaining documents. This is especially helpful if you want to extract all the data from the confirmations but you don't have a listing to reconcile to yet.