You can use DataSnipper to assist you in documenting Test of Controls related to the purchases cycle by creating cross references between evidence and your testing workbook.
Summary
In this 'how to' you'll learn how to use DataSnipper for your Test of Control procedures. Use DataSnipper to efficiently evaluate your client's internal controls. Easily document your test of controls. Create snips to support your inspection and reperformance procedures by easily documenting your supporting evidence. This can include: signatures, authorisation and more. Document your procedures over the operating effectiveness of controls, relevant to your audit. Easy to share and easy to review.
Example
Here you can download the workbook shown in the video including all of the sample data and documents.
Template
Here you can download a blank version of the workbook shown in the video to use or customise for your own procedures.
Prerequisites
1. Test of Control attributes
2. Evidence for testing specific attributes
3. Test script or excel workbook where you will be documenting your Test of Control.
Starting the procedure
Click 'import documents' to import the documents related to the control you are testing
Add the relevant information which relates to the specific control you are testing
Ensure that you leave some space to add snips to the specific area where you will document your sample item.


Performing your Test of Control
Select the 'Validation Snip' from the DataSnipper ribbon.
Use the drop down list to select the document relevant to the specific attribute
Click and drag over the relevant part of the document to create your cross reference on the specific piece of your evidence relevant to each assertion
You can do this only for one sample item for documentation purposes, or repeat the process for all of the sample to complete the testing.
If there are any control exceptions you can use the 'Exception Snip' to flag these to a reviewer.
Remember you can add multiple snips to the same cell by holding CTRL + Snipping. Or check out this article to learn more.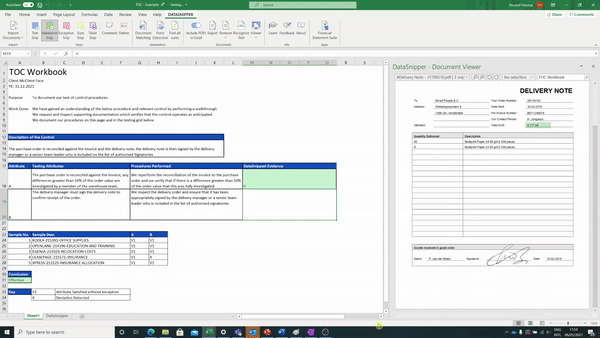 Complete your documentation
Once you have added snips where required you can finalise your documentation by including any further details on the controls or the conclusion.

You can then either retain all the pdfs within the workbook or remove them by using the 'Include PDFs in Excel' toggle.
You can also remove all pages without snips or all pages in general depending on your documentation preferences.