Learn how to use DataSnipper to easily perform any inspection procedure, regardless of the nature of the test, or the type of documents being inspected.
What is inspection?
"Inspection involves examining records or documents, whether internal or external, in paper form, electronic form, or other media, or a physical examination of an asset. Inspection of records and documents provides audit evidence of varying degrees of reliability, depending on their nature and source and, in the case of internal records and documents, on the effectiveness of the controls over their production. An example of inspection used as a test of controls is inspection of records for evidence of authorization." (ISA 500.A14)
Document Matching
You can use document matching within DataSnipper to perform any inspection procedure. Simply import the relevant document groups, bring your schedule of information required to be inspected into the workbook and use the document matching menu to automatically extract the information required into your workbook. This results in an improved audit trail where reviewers can easily see the source of any information used in the inspection procedure.
Learn how to use Document Matching
Click here to find out more on how to use document matching within DataSnipper.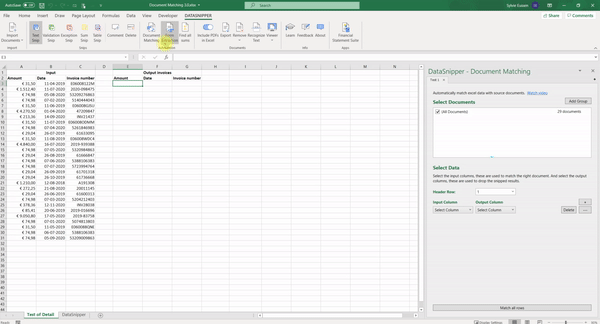 Smart Search to find information in any document
DataSnipper is also equipped with a smart search capability to allow you to easily find specific words, phrases, unique references, and balances within all documents. Simply click in the cell which includes this information, or add it to the search bar and you will be presented with all the occurrences across all of the documents you are performing inspection procedures on. You can then create manual text or validation snips to add a cross reference to this information.