Now that you have finished your financial statement procedures, learn how to get the marked up version of your financial statements out of the Financial Statement Suite, and into the hands of your teammates or the client.
About the Financial Statement Suite
The financial statement suite is a paid platform module. Designed to perform and review financial statements. Increase audit quality, while boosting efficiency. Leverage DataSnipper's AI and automation technology to increase your audit quality and efficiency.
Exporting documents
Select the 'export' tab within the Financial Statement Suite to begin the process of exporting your financial statements.
Select whether you want to export all tickmarks (useful for documentation) or only findings and highlights (useful to provide your client with a list of issues to fix).
Select if you would like a cover page including all comments
Click the 'Export to PDF' button and select a name and folder to save your financial statements to.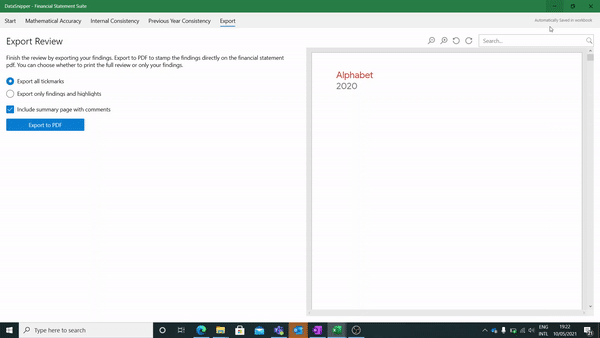 Please note that the Financial Statement Suite is a separate paid add-on module and supported by DataSnipper version 4.0 and up.
FAQs
Is it possible to export both current and prior year annual reports?
No, in FSS it is possible to export only the current year document which is the report under audit. However, you may separately export the prior year's report using the 'Export' feature in the DataSnipper platform toolbar.